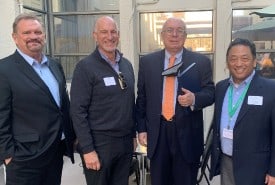 Last month, we opened the doors of our new La Selva Wellness Center in Palo Alto which will serve more community members in need of behavioral healthcare services in a bigger and better space!
At the grand opening event, La Selva Executive Director Jim Millsap, Palo Alto Mayor Patrick Burt, Supervisor Joe Simitian, and Momentum CEO David Mineta toured the facility alongside guests and spoke about the impact the center will have on our community.
We welcomed 75 guests, including members of Assemblymember Marc Berman and Rep. Anna Eshoo's offices.
La Selva is one of Momentum's oldest and most unique programs. It was founded in 1979 by former Momentum CEO Paul Taylor and Dr. Richard Almond. These two saw a need that nobody else did at the time: affordable, quality services for middle class people with severe mental illness and substance use disorders.
La Selva began with the adult residential program on Forest Avenue in Palo Alto, which is still there today. Over the years, the La Selva Group would go on to include residential, outpatient, and supportive housing programs in addition to becoming the first program to join the networks of every major insurance provider in the state of California.
The new La Selva Wellness Center will allow us to treat twice as many people and eliminates the backlog of our client waiting list. Future plans for the space include the introduction of new services such as a Functional Neurologic Disorder (FND) treatment track and a future Transcranial Magnetic Stimulation (TMS) program.
The La Selva campus is a milestone achievement for Momentum and will redefine wellness for our clients. The campus is designed to be an inclusive space for people to get well while creating a community of peers for clients to connect with on the path to recovery