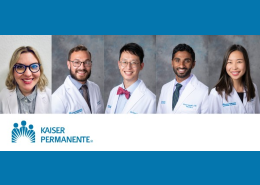 Kaiser Permanente San Jose's Adult Psychiatry Residency Program and Momentum for Health are partnering to help train the next generation of community mental health psychiatrists! According to guidelines set forth by the Accreditation Council for Graduate Medical Education (ACGME), all psychiatry training programs must include a community psychiatry training experience.
Beginning July 2022, Kaiser San Jose's fourth-year psychiatry residents will fulfill this requirement by providing psychiatric services at Momentum for Health's programs.  This training experience at Momentum will "provide residents with a cohort of persistently and chronically-ill patients in the public sector" and will "include learning about and using community resources and services in planning patient care, as well as consulting and working collaboratively with case managers, crisis teams, and other mental health professionals."
Momentum welcomes Drs. Mariah Carroll, Luis Espinosa, Lih-Chiao Hsu, Bharat Sampathi, and Tiffany Sui (pictured left to right) as this year's Kaiser residents!