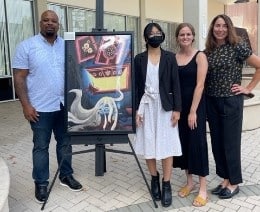 Community members, local elected officials and To Be Honest staff got together on August 4th at the County Building in San Jose to celebrate the winners of the Spring 2022 art contest.
The celebration honored the top 9 winners of To Be Honest's semi-annual art contest which addressed the theme "Imagining A Stigma-Free World". Supervisor Susan Ellenberg was in attendance and spoke on the importance of mental health programs for young adults and providing creative ways for youth to express themselves. All contestants submitted a written piece with their art. Here's what the top nine winners had to say:
"In a world without stigma around mental health, it would be a world where people are allowed to seek help and guidance without any judgment and shame."

– Xinpei Lu – 2D, 1st Place

"Because of the stigma, many mentally ill people face, such as not being taken seriously or being told to be normal like everyone else,

Be Free

is a piece that brings awareness about the importance of mental health and mental health advocacy."

– Jessica Kwandou – 2D, 2nd Place

"When I imagine a stigma-free world, I envision a place where nothing prevents me from being vulnerable about my inner struggles."

– Zoe Hammer – 2D, 3rd Place

"When I imagine a world free of mental health stigma, I see us embracing ourselves and others within a community that is less lonely and more connected."

– Hana Brett – 3D, 1st Place

"I wanted to embrace the woman's body, but then I wanted [to] add something a bit more personal to my piece."

– Sofya Martinez – 3D, 2nd Place

"My stigma free world would look colorful and fearless of showing emotions."

– Dinora Baltazar – 3D, 3rd Place

"I imagine the world without stigma around mental health would be a more compassionate, open, and connected one."

– Sarah Mallari – 4D, 1st Place

"The top portion of the drawing is a depiction of myself and how I looked when I was in the worst stage of my depression and my lowest point in terms of my mental health."

– Alicia Kim – 4D, 2nd Place
"My piece, titled Healing with Time, represents the emergence of universal mental health support for society if mental illness stigma did not exist." – Tiffany Yu – 4D, 3rd Place
Each of the winners digitally received art supplies or a new media gift card and were also gifted To Be Honest swag at this in-person event. Click here to view the winning pieces and to read more about what each winner had to say about their piece.
Cedric Anderson, Deputy Chief of Outpatient Programs at Momentum for Health emceed the event. Judges for the contest in attendance were Bev Catli Manzano (member of the Odd Fellows in Mountain View) and Carol Toppel (art docent at Cantor Arts Center).
Artists Jessica Kwandou (2D, 2nd Place) and Xinpei Lu (2D, 1st Place) shared more about their art pieces and how they were inspired by the art contest theme: Imagining A Stigma-Free World.
Submissions for the Fall '22 art contest are now open. The theme is "A Walk In My Shoes." If you're interested in learning more or submitting a piece, please click here.
To Be Honest aims to reduce the stigma surrounding behavioral health among youth, young adults and their families in Santa Clara County through education that ultimately normalizes mental illness and substance use issues.